CCLI's Annual Fall Event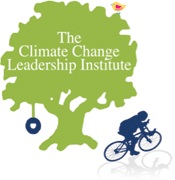 CCLI, Our Partnering Sponsors & Co-hosts (Click here to become a sponsor or co-host if you're not already) welcome you to join in our
FALL CLIMATE LEADERSHIP EVENTS:
Register for CCLI's TVM Leadership Lunch~Fundraiser
On Sunday October 21st Oct @1pm we'll be hosting a fundraiser lunch at the Tesuque Village Market (TVM) to tally results and celebrate our community's environmental leadership. A donation of $75 is requested for adults attending the lunch and $15 per child (*all youth participating in the Kids Climate Ride eat free*).
Register for CCLI's Family & Kids Climate Ride (including environmental education, snacks & lunch for the young people participating)
Elementary, Middle & High School Students, and their Families are invited to the Kids Climate Ride starting at 11:00am from Fort Marcy Park. This fun bike ride will include an environmental education & lunch. Parents can join or drop their kids off at 11:00 (w/ their helmet & bike) and pick them up at Tesuque Village Market at 1pm during the lunch.
Register for CCLI's Outdoor Challenge
We are encouraging Santa Fe residents to head out to the great outdoors this Fall. From Labor Day (Sept 4) thru Sunday, Oct 21st, we'll give a $1 donation for every mile you bike in support of CCLI's community service & climate leadership solutions. We'll furthermore give $3 for every mile you run, hike or walk. The point is to journey outdoors in nature during the beautiful fall season and participate in local environmental stewardship. Keep track of your miles (either on your own or with an app like Map My Ride) and let us know the tally at our leadership luncheon or by email to ccli@takeresponsibility.us.
use your social media to CHALLENGE SOMEONE YOU KNOW TO ALSO PARTICIPATE (greater participation = greater impact)
Whether or not you can join us, MAKE YOUR DONATION ON-LINE or send a check to CCLI @ 911 Stagecoach Rd. Santa Fe, NM 87501
The Climate Change Leadership Institute is a New Mexico based Non-Profit Organization encouraging local conservation, clean energy and collective responsibility to help phase out greenhouse gas emissions. We provide local leadership seed grants, paid student internships, environmental science scholarships and direct action projects focused on reducing greenhouse gas emissions and empowering our community at once. CCLI is a 501c(3) so all contributions are considered tax deductible.